ATTENTION INSTALLER: CAREFULLY READ THESE INSTRUCTIONS BEFORE YOU BEGIN
Required Tools (not included)

RECOMMEND THAT UNDERMOUNT SINKS SHOULD BE INSTALLED BY A PROFESSIONAL EXPERIENCED INSTALLER.
WARNING: DUE TO THE CUSTOM NATURE OF THIS TYPE OF INSTALLATION, NO CUTOUT TEMPLATE IS INCLUDED.
RECOMMEND PROVIDING THE CABINET MAKER WITH THE ACTUAL SINK TO BE INSTALLED PRIOR TO CABINET FABRICATION.
METAL EDGES MAY BE SHARP - USE CAUTION WHEN HANDLING.
IT IS RECOMMENDED THAT THE SINK IS INSTALLED WITH A 1/8" OVERHANG AS ILLUSTRATED IN FIGURE 1.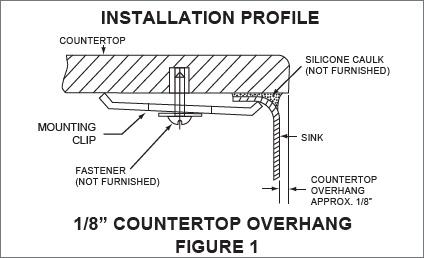 IT IS FURTHER RECOMMEDED THAT THE INSTALLER(S) DISCUSS THIS WITH THE CUSTOMER AND AGREE THAT THIS FINISHED APPEARANCE IS THE DESIRED EFFECT.
NOT RESPONSIBLE FOR IMPROPER SINK OR COUNTERTOP INSTALLATIONS.
FOR REFERENCE, FIGURE 2 PROVIDES DIMENSIONAL INFORMATION TO ESTABLISH THE CUTOUT POSITION IN RELATIONSHIP TO THE FRONT OF THE CABINET.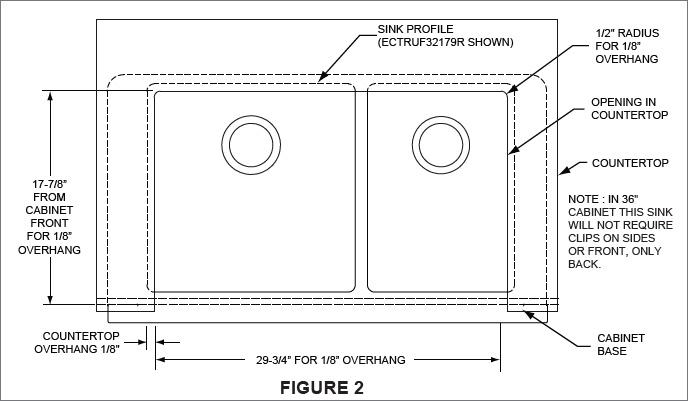 WARNING: SINK MUST BE SECURED TO THE FRONT OF THE CABINET BY DRIVING FASTENERS (NOT SUPPLIED) THROUGH THE CABINET FRONT AND INTO THE SINK MOUNTING WOOD STRIPS AS ILLUSTRATED (SEE FIGURE 3). FAILURE OF THIS STEP CAN LEAD TO PRODUCT DAMAGE.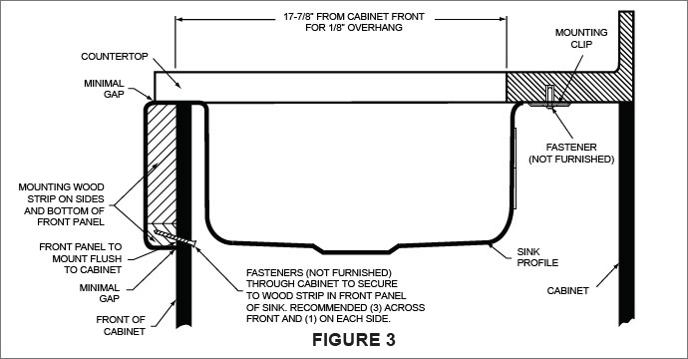 PROPER INSTALLATION REQUIRES A COORDINATED EFFORT INCLUDING ADVANCED DIALOG BETWEEN THE DESIGNER (OR CUSTOMER), THE CABINET MAKER, THE COUNTERTOP FABRICATOR AND THE SINK INSTALLER DURING THE DESIGN AND INSTALLATION PHASE.
UNDERMOUNT SINKS SHOULD ONLY BE FASTENED TO A SOLID SURFACE COUNTERTOP (I.E. GRANITE/CORIAN®/SILESTONE®).
WHEN SINK AND CABINET ARE CORRECTLY SIZED THE SINK CAN REST ON SIDE WALLS OF
CABINET AND NOT REQUIRE SIDE CLIPS. MATERIAL MAY BE REQUIRED TO BE REMOVED FROM CABINET TO LEVEL SINK BENEATH COUNTER.
NOT RESPONSIBLE FOR SINK OR COUNTERTOP IF DAMAGED DURING INSTALLATION.
FOLLOW ALL LOCAL PLUMBING AND BUILDING CODES.
INSPECT SINK FOR DAMAGE PRIOR TO BEGINNING INSTALLATION.